ASIA/BRUNEI – First Cardinal passes away in Brunei Darussalam
---
On May 29th, Cardinal Cornelius Sim of the Apostolic Vicariate in Brunei Darussalam died at the age of 70. " With a sad heart I announce the death of Cardinal Cornelius Sim, Cardinal of the Apostolic Vicariate in Brunei Darussalam, who passed away on Saturday, May 29, 2021 at 8:28 am at Chang Gung Memorial Hospital (CGMH) in Taoyuan City, Taiwan" ,Msgr. Robert Leong, Vicar General, in a press release.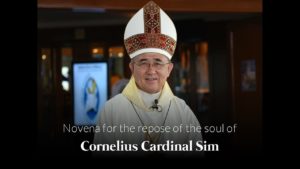 Since his arrival in Taiwan on May 8, the Cardinal has been in quarantine until the beginning of his medical treatment at the CHMH. The medical staff took care of his health conditions on a daily basis, but unfortunately, everything they did didn't seem to be very effective. He gradually became weaker and lost much of his vitality.
Unfortunately he has passed away" , said Msgr. Leo.
The Cardinal's funeral will be announced at a later date. " Let us all pray for his soul and for the Vicariate. May his soul rest in peace" , said Mgr. Leong.
On the death of Cardinal Sim, the president of the Catholic bishops of Malaysia, Singapore and Brunei, Mgr. Sebastian Francis, said: " We are deeply saddened to announce the death of His Eminence Cardinal Cornelius Sim, of the Apostolic Vicariate of Brunei Darussalam. He died of cardiac arrest in Taiwan this morning" .
" We invite everyone to pray for him during masses and prayers. In this time of loss and grief we want to be in communion with his family, the clergy, the religious and all the faithful of Brunei" , said Mgr. Francis. The late Cardinal was ordained a priest in 1989. He was of Chinese and Dusunian descent and was born in Seria, Brunei on September 16, 1951, and studied engineering at Dundee University in Scotland. In 1988 he earned a Masters in Theology from the Franciscan University in Steubenville in Ohio. In the same year he returned to Brunei, where he served as administrator of St. John's Church in Kuala Belait. He was ordained a deacon on May 28, 1989 and a priest on November 26 of that year. In 1995 he became Vicar General of Brunei. On November 21, 1997, Pope John Paul II appointed him Prefect of the Apostolic Prefecture of Brunei and in 2005 he received episcopal ordination. Last year Pope Francis elevated him to the rank of cardinal at a consistory on Nov. 28, 2020.
The Apostolic Vicariate of Brunei is located in the Southeast Asian Kingdom of Brunei, a country with large oil reserves and a majority Muslim population. A total of 460,000 (or two thirds of the country's population) profess Islam, which is also the country's official religion. Members of other religions, on the other hand, are free to practice their faith in peace and harmony.
The Catholic community of Brunei has about 16,000 believers, 80% of whom are migrants or guest workers, mainly from the Philippines, but also from other Southeast Asian countries.
They are served by four priests, all of whom are from Brunei.
Pope Francis appointed Bishop Sim from the Apostolic Vicariate of Brunei Darussalam as the first Catholic cardinal in one of the richest and smallest countries in the world.
The Apostolic Vicariate of Brunei Darussalam is part of the Bishops' Conference Malaysia-Singapore-Brunei.
The Apostolic Vicariate of Brunei has three priests and four parish churches, is one of the youngest and smallest " dioceses" in Southeast Asia and is a constantly growing church with numerous spiritual activities in its parishes.
The Catholic faith was first brought to Brunei by Franciscan missionaries in 1587, but the local church was not founded until 1997. Last year the Cardinal said that the Vicariate " wants to strengthen and support the missionary dimension of the Church today" .
Brunei is a 2,200 square mile country entirely on the island of Borneo, which is also home to parts of Malaysia and Indonesia. The official language is Malay, but English and Chinese are also widely used. The country is an absolute monarchy led by Sultan Hassanal Bolkiah.
About 10% of the population are atheists, 13% are Buddhists and a small number of tribal believers. Christians, half of them Catholics, make up 10% of the population of Brunei.
Source: Agenzia Fides, (29/5/2021)